Submitted by

andrew

on Thu, 10/04/2018 - 15:12
ClipCube Media One stop Digital Media Service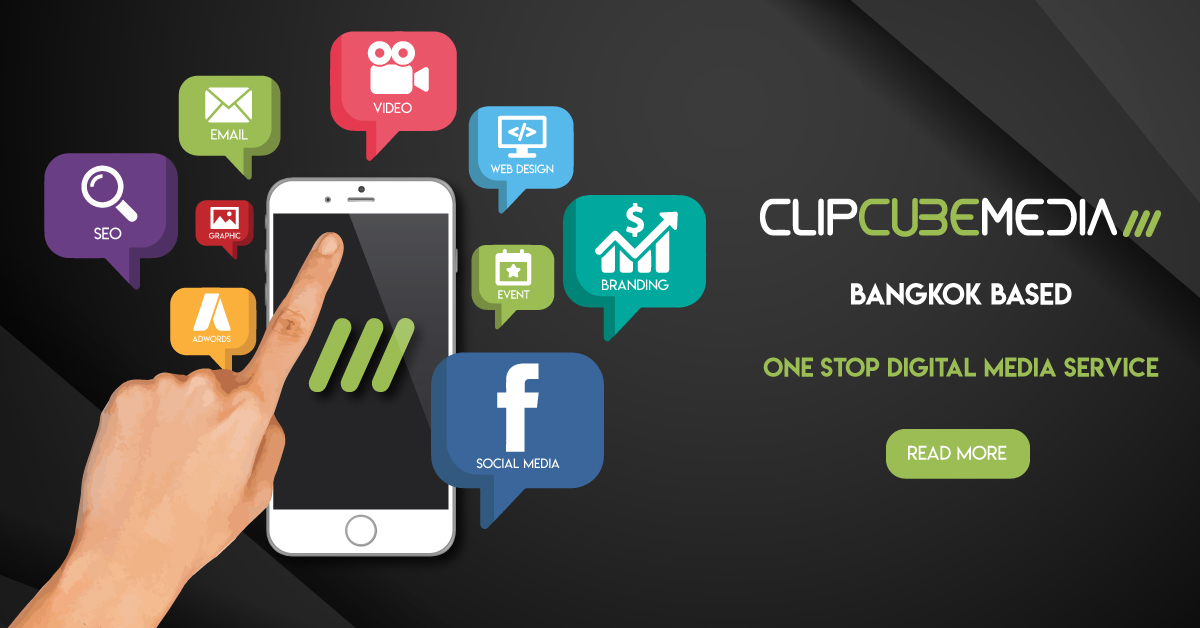 ที่ ClipCube Media เราให้บริการ Digital Media ครบวงจร แบบ One Stop Service
.บริการที่เราพร้อมให้คุณ ประกอบไปด้วย
.งานวีดีโอโปรดักชันและโปรโมตวีดีโอ / งานถ่ายภาพ / บริการให้เช่าสตูดิโอห้องอัดเสียง, สตูดิโอถ่ายทำวิดีโอ และบริการให้เช่าอุปกรณ์ / งานออกแบบเว็บไซต์, บริการสนับสนุนและรับโฮสต์เว็บไซต์ / บริการ Email Newsletter Marketing / งานพัฒนา Application บนเว็บและมือถือ / งานกราฟิกดีไซน์ต่างๆ, โบรชัวร์, ออกแบบและตีพิมพ์นามานุกรม (Directory) / การจัดการและโปรโมตงาน Event / บริการ SEO ทั้ง Onsite และ Offsite / Google Adwords / บริการให้คำปรึกษาแบรนด์และธุรกิจ
.เราใช้เวลาทำความเข้าใจธุรกิจและแบรนด์ของคุณ รวมทั้ง กลุ่มเป้าหมาย, กลยุทธ์, และเป้าหมายของแคมเปญ ซึ่งช่วยให้เราสามารถสร้างคอนเทนต์ที่น่าติดตามและสร้างสรรค์ออกมาได้ ไปจนถึงการจำหน่าย / ส่งคอนเทนต์เหล่านั้นให้ถึงกลุ่มเป้าหมายและประเมิณผลออกมาได้
.เราจะให้บริการในรูปแบบของโปรเจ็กต์, แพ็คเกจ, และงานรายครั้ง ซึ่งงานทั้งหมดของเราจะถูกจัดการผ่าน ระบบจัดการโปรเจ็กต์ออนไลน์ของเรา ลูกค้าของเราสามารถเข้าไปดูความคืบหน้าของโปรเจ็กต์งาน, แสดงความคิดเห็น, และมีส่วนร่วมได้
.ที่ ClipCube Media เรามีสตูดิโอของตัวเอง ทั้งสตูดิโอห้องอัดเสียง และสตูดิโอถ่ายทำวิดีโอ ตั้งอยู่ใจกลางกรุงเทพ เดินทาง 5 นาทีจากสถานี MRT รัชดาภิเษก ทางออกที่ 3 ตั้งอยู่ที่ถนน ลาดพร้าว ซอย 38
.ติดต่อเราวันนี้ และรับคำปรึกษาฟรี เกี่ยวกับโปรเจ็กต์งานที่คุณคิดเอาไว้กับเราได้เลย
.แผนที่ Google Maps มายังสตูดิโอของเรา: https://bit.ly/2LFqovA
---
ClipCube Media is a Bangkok-based One Stop Digital Media Service.
We provide a range of media services including:
.
Video Production and promotion / Photography / Audio and Video Studios, Workspace, and Equipment Rental / Web Design, Support, and Hosting / Social Media Set Up and Management / Newsletter Development and Distribution /  Mobile and Web Application Development / Graphic Design, Brochure, Newsletter, Directory Design and Publishing / Event Management and Promotion / Onsite and Offsite SEO / Google Adwords / Brand Consulting and Planning.
.
We take time to understand your business, brand, target market, strategic objectives and the goals of your campaigns allowing us to create engaging and creative content, then distribute and evaluate. Our Success is your  
success.
.
Services are provided on a project, package or recurring basis and are managed transparently through our online project management system. This allows the client to collaborate and see the progress what is happening when.
.
ClipCube Media has its own inhouse audio and video studios, meeting and viewing facilities in the heart of Bangkok, 5 minutes from Ratchadapisek MRT station, exit 3 and easily accessible at Lardprao Road Soi 38.
.
Contact us for a free consultation to discuss your objectives and requirements.
Google Maps: https://bit.ly/2LFqovA