Submitted by

Peerat.r

on Thu, 11/01/2018 - 15:18
(See English version below)
ปรับปรุงประสิทธิภาพ Ad Facebook ของคุณด้วย Ad Split Testing
ClipCube Media ให้บริการจัดการ Social Media, สร้างสรรค์ดิจิตัลคอนเทนต์ และ วีดีโอโปรดักชันที่กรุงเทพฯ เรารู้ว่าแค่โพสต์หรือสร้างคอนเทนต์ขึ้นมามันยังไม่พอ เราต้องรู้และทำความเข้าใจด้วยว่าเราทำคอนเทนต์เพื่อใคร และจะทำอย่างไรเพื่อส่งคอนเทนต์ให้ถึงกลุ่มเป้าหมายได้มีประสิทธิภาพที่สุด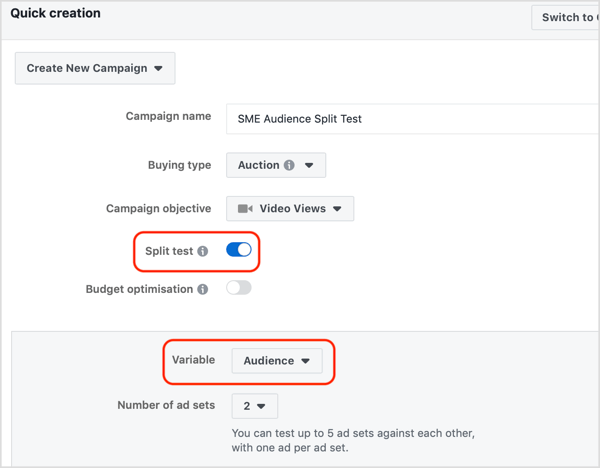 ฟังก์ชัน Ad Split Testing เป็นเครื่องมือท่ี่มีประโยชน์อย่างมาก ที่คุณสามารถใช้งานเองได้ และนี่คือการใช้งานในภาพรวมของมัน
ต้องเกริ่นกันก่อนว่า การจะใช้งาน Ad Split Testing นั้น คุณจะต้องมีการตั้งค่า Ad Manager เรียบร้อยอยู่แล้วเท่านั้น
การทำ Split Testing ช่วยให้คุณสามารถทดสอบ ตัวแปรต่างๆ ที่ส่งผลต่อประสิทธิภาพ Ad เพื่อหาการตั้งค่า Ad ที่ได้ผลลัพธ์ตรงเป้าที่สุด นอกจากนั้นยังบอกงบประมาณคร่าวๆมาให้เราต่อ 1 ad set อีกด้วย
ตัวแปรเหล่านี้ได้แก่ Ads, Delivery Optimization, Audiences, Placement, และตัวเลือกที่สามารถเลือกหลายตัวแปรพร้อมกันได้ แล้วนำไปใช้เป็น Ad จริงๆได้เลย
เมื่อคุณสร้าง Ad ขึ้นมา จะมีตัวเลือก Split Test ให้คุณได้เลือกเปิดใช้งาน เมื่อกดเปิดใช้งาน จะมีกล่องแสดงตัวแปรขึ้นมา โดยคุณสามารถเลือกตัวแปรที่ต้องการทดสอบกับ Ad ได้ที่นี่ ขึ้นอยู่กับผลลัพธ์ที่คุณต้องการ ตัวอย่างเช่น การเลือก audience ที่ต่างกันแล้วนำมา split test, หลังจากนั้นสามารถตั้งจำนวน Ad set ที่ต้องการโดยมี audience ที่ต่างกันเพื่อนำมาวัดผล.
ค่าใช้จ่ายในแต่ละ ad set จะถูกคำนวณและเปรียบเทียบด้วยกันเอง โดย ad set ที่มีใช้ค่าใช้จ่ายน้อยที่สุด และได้ผลลัพธ์ที่ดีมากที่สุด จะชนะการทดสอบ หลังจากเสร็จสิ้นการทดสอบ Facebook จะส่งผลลัพธ์ไปที่เมลของคุณ และไฮไลท์ตัวแปรที่ชนะการทดสอบ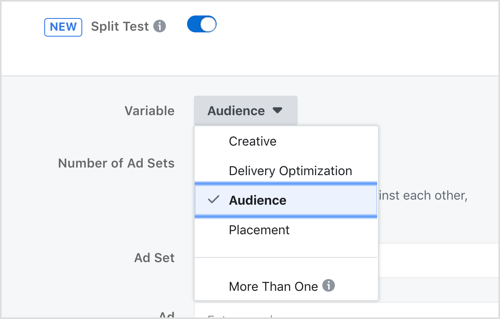 ส่งท้ายนี้ อย่าลืมว่าการทำ Split Testing นั้น หมายถึงการนำผลลัพธ์ของการตั้งค่าที่ต่างกันของ Ad คุณมาเปรียบเทียบหาอันที่ดีที่สุด ให้พยายามสร้าง ad set หลายอันและใช้ตัวแปรที่หลากหลาย ตามความต้องการของคุณ ตั้งชื่อ Ad Set ให้สามารถเข้าใจและแยกออกได้ว่าตัวไหนที่ใช้ตัวแปรต่างกัน เพื่อป้องกันการสับสน และต้องอย่าลืมว่าทุกๆ ad set ต้องมีตัวแปรที่ไม่เหมือนกัน Split Testing จึงจะสามารถเริ่มการทดสอบได้เท่านั้น
สำหรับข้อมูลเพิ่มเติมเข้าไปดูได้ ที่นี่ 
ClipCube Media ให้บริการจัดการ Social Media, สร้างสรรค์ดิจิตัลคอนเทนต์, ทำกราฟิกเพื่อใช้ทำโพสต์ที่น่าสนใจ, ทำคอนเทนต์ทั้งภาษาไทยและอังกฤษ, โปรโมทโพสต์ให้ถึงกลุ่มคนดูที่ต้องการโดยจัดสรรค์ให้อยู่ในงบประมาณที่กำหนด, และ อื่นๆอีกมากมายตามความต้องการ
ติดต่อเรา คลิกที่นี่
หรืออีเมลมาหาเราที่: sales@clipcubemedia.com
-------------------------------------------------------------------------
Improve your Facebook ad results with Ad Split Testing
ClipCube Media provides social media managment, content creation and video production service in Bangkok. It is not enough just ot post and create content. We must understand who we are creating the content for and how to best target and reach the audience.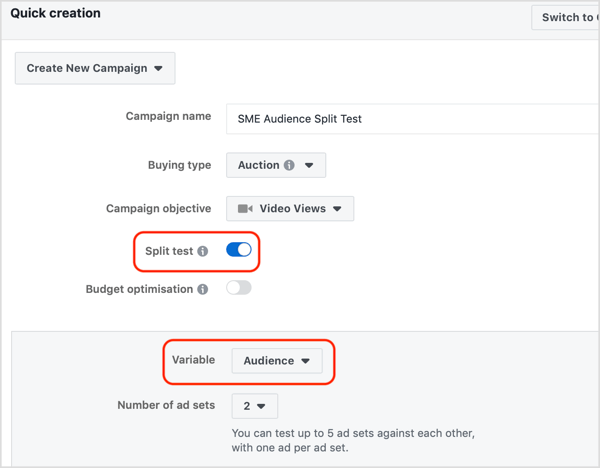 Facebook split testing is a powerful tool you can use yourself. Here is an overview of what it is all about.
One pre requisite in using the Split Test feature is to have a Facebook Business Ad Manager set up.This is where it all happens.
The split test feature lets you test 5 different variables against each other to discover which ones deliver the best results based on your campaign goal. It will also provide you an estimate cost per result for each ad set.
These variables include ads, delivery optimization, audiences, placement, amongst other variables. By using it through out your different campaigns you can target the different the variable's. In the case of audience you can see the temperatures and engage with people at different levels of awareness and consideration for your products or services.
When you create an ad, there will be a Split test option for you to switch on or off. Switch on the option and the variables box will appear. You can select the variable here depending on what result you want. In the example, select the audience as variable, you can then select the number of ad sets you want to test against.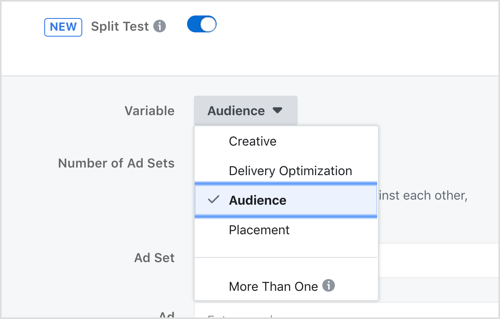 The cost of each ad set will calculated and compared with the other. The ad set with the lowest cost per result will win the test. After the test is complete, Facebook will email you the results and highlight the winning test variable.
Last but not least, do not forget that doing the split test means comparing the results between your different settings of you ads. Try creating multiple ad sets with different variables. Name the ad sets accordingly to avoid confusion. Make sure that each ad sets contain different variable.
For further information: Click here. 
Happy split testing!
ClipCube Media provides cross platform Social Media services. We can manage posts, ads, and promote contents for your facebook page with effective results based on your campaign plans or KPIs.
ClipCube Media also provides other digital media services include Video Production and promotion / Photography / Audio and Video Studios, Workspace, and Equipment Rental / Web Design, Support, and Hosting / Newsletter Development and Distribution /  Mobile and Web Application Development / Graphic Design, Brochure, Newsletter, Directory Design and Publishing / Event Management and Promotion / Onsite and Offsite SEO / Google Adwords / Brand Consulting and Planning.
Or simply email us at sales@clipcubemedia.com